6 ways to increase conversion for 14% using Popup extension
I am going to show you in this short article 6 ways how you can easily use popup extension to boost your sales in different ways with just 1 hour of work and without disturbing your potential customers.
1. Recover Abandoning Visitors with coupon code
Customers who already added a product to shopping cart are very valuable. Add a popup in the checkout page or shopping cart but show it only when users tend to leave the site. If you offer them a deal or coupon, they may return back. In this way you won't disturb your customers too much because you showed popup after they were already planning to leave your site. You can also include cart item picture inside popup to make popup more cart personalized.
Popup example: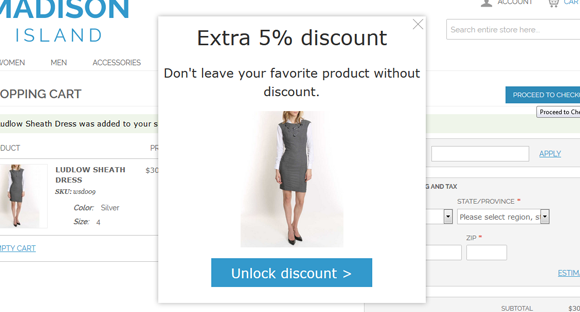 Popup settings: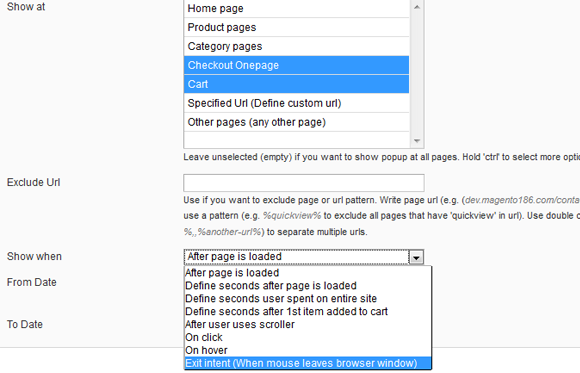 2. Reduce abonded cart with countdown counter if customer finish the purchase in next 30 minutes
This has been proven to be very effective method to reduce abonded cart rate. A lot of visitors add product to cart but then take extra time to think about the purchase. They compare other offers, go to other sites and sometimes they are not quite decided to make order or they are just too lazy to finish the order.
By showing countdown counter with extra benefit it makes your customers to act fast. You don't give them time to think too much or they will lose this benefit. Sometimes fear of losing is stronger than getting something for free.
You can offer them extra discount, free shipping or free e-book. You can create ebook product and give to product some price. Then create shopping cart rule that will give this product for free. The shopping cart rule can be then linked to popup.
Example: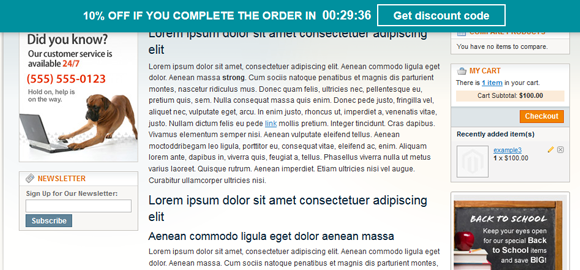 Popup configuration:
The extension gives you option to insert both countdown widget + discount code widget. You can link those widgets together and coupon code will automatically expire when countdown goes to 0.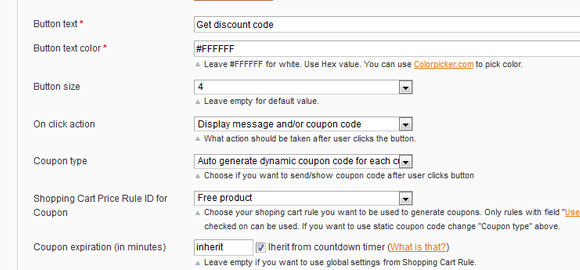 3. Show request a product form if there are no search results
In most sites search is one of the most used functionality. If visitors don't find what they are looking for, they will probably leave your site. This is the best moment to get their contact. You can offer them similar product. You can also offer them coupon code if they contact you to get more enquiries.
Popup example: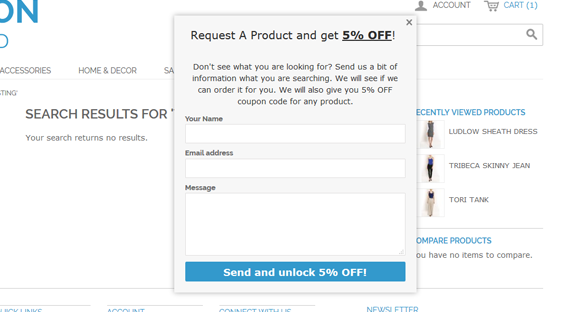 Popup settings:


4. Show only 1 left tooltip
Show only 1 or only a few left tooltip for products with stock qty less than 5. The extension gives you option to use product qty as popup show condition which make this option very easily to create.
Popup example: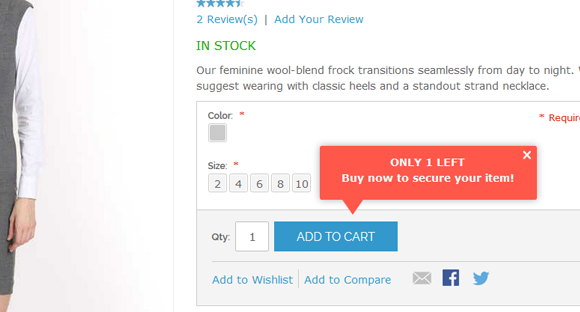 Popup settings:


5. Show 10% off through this Monday offer
This simple method can lift conversion on some days for even for more than 30%. Visitors believe they won't get this offer next day which gives them motivation to buy product before Tuesday.
Popup example: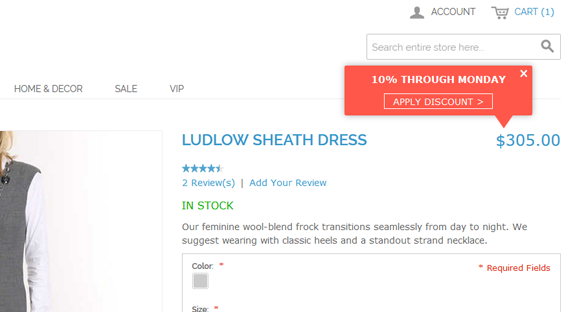 Popup settings:



6. Get free shipping if you spend more than 80€
Another successfull method to sell more to the same customer. Many retailers give free shipping to customers if they spend at least x $. Important thing to do is to remind your customer about that very specifically.
Popup example: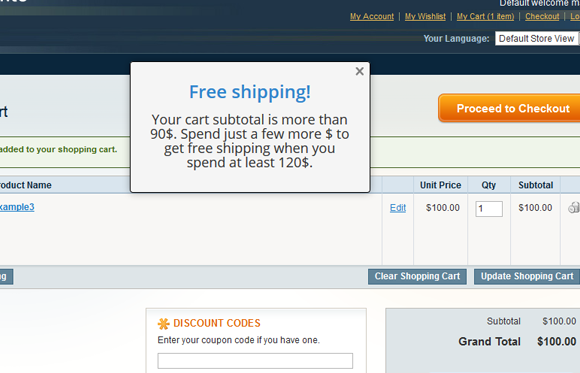 Popup settings: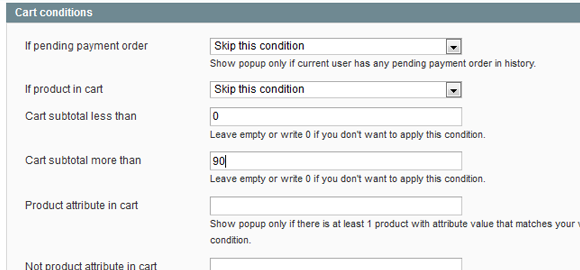 Try it yourself
There is no guaranee that this will work the same also in your store, results can be less promising or even better, each store has different audience and products. But you have nothing for lose, you can try 7 days free trial and you will see. 7 days is enough to see first results. Installation is very easy and if you want we can install the extension for free for you. Download extension for free from here.