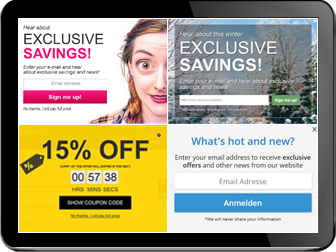 Magento Popup Extension

4.9/5 Read all 34 reviews
Best rated Popup extension with conversion rate boosting tools. Newsletter, exit intent, dynamic coupons and 50+ extra features.
Review by somebody from www.veganis.com.br

Quality

We always want free modules to our stores. But incredible and complete modules deserves to be paid. This is the case of Popup from Megebird.
Some modules to Magento offers a unic type of popup. This module covers every possibility of popups you may want and with the ability to customize everything.
Support is incredible too, they answer fast, explain everything you need, accept suggestions of new features, help you with especific customizations.
I'm very satisfied with everything, worth the cost.
Review by somebody from www.urbanniti.com

Quality

I do appreciate when extensions are not only what they say they do but they also offer options and allow to configure the functionalities to your expectations. This is exactly what the Pop Up extension of Magebird does. Pop ups can be configured at any level I could imagine.

It is extremely customizable from design and technical point of view. You can set up different pop ups for every type of page and for every type of device!

I am very happy with what I have published on my website and I have the feeling I have configured less than 50% of the functionalities the extension is offering.

And most importantly, every single email I have sent to Magebird team has been replied quickly what makes me feel that I am not alone with my purchase but I have people helping me out if any question comes up.

Congratulations, very happy with this purchase.

Angel
Excellent extension, Incredible support, Flawless implementation

Review by Siddharth Maheshwari from www.stellastoffa.com

Quality

A million thanks to Magebird for Popup Extension.
Excellent in Many ways.

Review by Bob Davey from www.posterprint.co

Quality

Having had a bad experience with a previous Magento developer we nervously tried the Magebird Popup demo. Whilst trying to create a popup I had a problem (caused by me not the module)
I'm glad I've found this!

Review by Istvan Kovacs from www.nadland.hu

Quality

I like the extension very much. It is easy to customize, launch or change a campaign, and the results are promising. After the first month's results it looks like we can double the size of the list - which we are building for for more than 6 years.
And the customer support is excellent :)
Great Support

Review by Jeff C. from www.muzzle-loaders.com

Quality

They were awesome and always responsive. I had a couple of issues, which were cleared up immediately! I will do more with them!
Review by somebody from www.islandgold.com

Quality

The Magebird Popup Extension covers every possibility for a popup you could ever need. I needed mobile popup too and they got that covered that too...
Works perfect and great support

Review by Kim from www.cartoonkids.dk

Quality

I really like this extension. It has so many functions and options, and the support is great. Thanks :)
AMAZING WOOOOW

Review by Eric Hanson from www.canvasjet.com

Quality

This is the no.1 Extention for my store. It increases sales by 50 %, Just amazing.
Review by somebody from www.24deluxe.nl

Quality

great extension! this developer really knows what is needed in ecommerce
Magento Pop Up

Review by Alessandro from vivendo.com

Quality

Great extension, very flexible, pre-styled templates are great. Totally recommend it!
Review by somebody from showyourflipside.com

Quality

I looked into several pop-up extensions. I settled on this one because of all the features and pre-built templates for the pop-up design. Boy am I glad I did! This extension did almost everything I wanted right out of the box and the support was phenomenal! The developer was fast to respond to questions and helped me get one pop up working only after certain actions by the customer. Soon I was deep into creating elaborate promotional pop-ups and replacing inconvenient and ugly pop-ups from another module. For example I had a copyright warning that appeared AFTER the customer was done customizing a product. Now I can have my own beautiful pop-up appear BEFORE they start editing. Plus I set it up to appear only once per customer every 30 minutes instead of every time you click on a product.

With all my unusual pop-ups, multiple on the same page, custom rules, etc.. I soon ran into a few problems. The developer was incredibly fast to look into them and provided great tips and even a product update to help solve my issues. He even helped me find other problems in my javascript code that had nothing to do with their extension. Best support experience I've had! Highly recommended
Great Product, great results

Review by Bruno from sampar.jp

Quality

Using Magento CE 1.9.2.

I installed the free trial before purchase. The support was incredible and fast, and because I dont know anything or very little about html, I have asked a lot of questions... This extension is really great. easy to use, I can make a popup in 3mn now. I can see the subscription rising, either for newsletter or coupon. Very very happy.


Review by Hector from kingofvapes.guru

Quality

I can count on one hand the times I have taken the time out to write a review, but companies/support like this MUST be acknowledged. If you are on the fence about getting this extension, JUST GET IT. I spent more money than what this extension costs looking for bargains and trying save a dollar. Bad move. I ran into poorly written extensions with tons of bugs, complimented by even worse support. Not only did that bad experience almost chase me away from the Magento environment, but it had me second guessing myself and ready to abandon ship on a business I just barely started. This extension BLOWS any extensions like it out of the water (I know, i tried 4 before this one).
Its robust, well written code, and the configurations and options are just nothing short of incredible. So, if you are on the fence about this extension, save yourself some money, and more importantly, TIME and headaches. Get it. But, that's not the reason why I chose to come back here and leave this review. I encountered a small issue when one of my banners at the footer area was blocking my chat module. I contacted support and within HOURS not only did I have a response, but the problem was FIXED!! A stark contrast to the norm in MOST companies. Not only that but they discovered a small bug when using two pop-ups if one uses the count-down timer. This wasn't even noticed/reported by me. They took the time out to actually look over my whole configuration and made sure that EVERYTHING was good on my production site. I even setup a coupon wrong that would have given customers $20 off each individual item in cart, instead of $20 cart total. That was a total noob move on my behalf, but just goes to show you how far these people went and how thorough they are. I apologize for the lengthy review, but if I did ANYTHING less, I would NOT feel right. Being that I've deal with so many bad extensions, lost so much money, and have dealt with such horrible or non-existent support, that I felt as though I had to come back and review this extension. Not just because the extension is awesome, but also because supports needs to be commended for such care/support. I will be looking to this company for new/other extensions if they ever do any others. Definitely recommended.
Excellent popup solution

Review by Aleksandra Ristic, 2buy1click from https://www.lookfabulousforever.com/ http://lilyandlionel.com/

Quality

After we used Magebird Popup for the first time, we now use it on every website as the prefered popup solution. Excellent and prompt technical support too when we need help - very important!

We now use Magebird Popup not only to capture registrations - growing customers' lists, but as well for any information about Sale, Free Shipping, any Gift Offer on the checkout, or to show T
Excellent module. Well thought and excellent service.

Review by Eddy from https://ledradiant.com

Quality

Magebird well deserves to be paid for. Great versatility, very useful for many accomplishments and the service provided is beyond excellent.
Review Magebird PoPup

Review by Jean Louis from http://www.mooviin.com

Quality

Its does its job ! Quick installation, fully functional.
Clear options, easy for non-technical persons.
Review by somebody from http://madamedbrasil.com.br

Quality

Muito util este modulo. Gostei
Review by somebody from chocstar.nl

Quality

The extension is very good.
The support was good and very quick.

You can try this without a second thought,

Good job guys !!
Powerful, and easy to use

Review by Eric Hanson from canvasjet.com

Quality

An amazing extension to add to your magento store! powerful, and easy to use. Works as expected right off the bat. We are very happy.
Review by somebody from beessential.com

Quality

Great product and easy to use.
Fully encoded code...

Review by George N.

Quality

Although this plugin works as expected (with some bugs and issues), it's code is fully eval() encoded, making it impossible to troubleshoot.
Also, this obfuscation makes it difficult to trust the inner workings of the plugin, since nobody but the developer knows what is going on in there...

I installed the trial, and the second I realized the code is encrypted (after I tried to troubleshoot 1-2 issues), I removed the plugin immediately.

Developer response:
I believe this review is not fair for some reasons:
-The reviewer is anonymous, they never contacted us, never reported any problem (we do offer free support).
-The review is made on false presumption that the entire code is encrypted, no matter what is the quality of code and extension.
-They tried just free trial version, never even asked if they will receive decoded version if they buy the extension.

The extension has been installed on 1000+ stores and it is normally there will be at least one customer with different opinion than others which only proves that reviews are authentic.

I am not sure what kind of issues the reviewer had, but we haven't received any e-mail from them even if support is free. It is not fair to give 1 star rating just because some parts of code are encoded. Not entire code is protected, just core files and we always resolved all problems. They could just sent us e-mail we would immediately resolve the problem.

It would be too much risk to give you unprotected code for free. How can we know if they are not from our competitor company trying to steal our code for free (which have already happened before when code wasn't protected).

To develop such extensive and advance popup extension costed us a lot of development work. The reason why we started with encoding was because of too many licence violation issues. Some company even copied the entire extension, just renamed it and started selling it for half price which could finish our business as this is our core product. Our extension is installed on 1000+ stores, I personally wrote the entire code and I can assure you it is clean, not 99% but 100% for sure. We are EU located company obligated to follow EU laws. Any malware inside our code would finish our business immediately.

Ernest
Excellent product

Review by Adam

Quality

This product is by far one of the most advanced popup extension for Magento that I have seen. There are so many capabilities to this popup that can be added simply by the back-end settings. It has allowed me to greatly increase the amount of emails that I collect and in return the amount of traffic that I generate to my website.

In addition, there has been several times that I have reached out to customer support for questions or help and in my surprise they have always answered me back in a timely matter with the solution. They did not make me wait 1-2 business days to acknowledge my email.

I would highly recommend this extension as well as the support that is backed up by the developers of this extension.

Keep up the great work!
Great support!

Review by Vincent Weening (Testa)

Quality

Magebird gave us great support when we had conflicting scripts in our website. Furthermore, the plugin is just perfect. A lot of functionality.
Very powerful extension - easy to install and to use

Review by Giovanni

Quality

We bought this extension and we really appreciated it: it has a lot of settings to customize popups according to our needs. Moreover it was very easy to install: after copying extension files in the right place and after setting the right configuration parameters everything started working immediatly without any issue. The extension is absolutely cheap for what it offers: thank you for your work.
Great extension and individual approach

Review by Vitaly

Quality

The extension overall was really good, but there was a little but important missing feature. I contacted the developer and we negotiated this case so I got what I needed. Totally recommend to everyone.
One of a kind solution

Review by Asrar

Quality

I have been evaluating many modules of its kind, but nothing seems better than this.
Three words, no big deal - Simple, powerful and effective.

No rewrites with core saves time by a great deal.

Definitely recommend this to any developers and merchants.

Cheers!
Amazing Service

Review by Amanda

Quality

User-friendly extension. The developer provided as much assistance as possible in resolving some bugs. The service is definitely 5 stars!
Easy to use and great service.

Review by Emily

Quality

Installation was easy, we did a custom popup and it went smoothly. A lot of options to fit any need you have. Had a few questions along the way and they were quick to respond with detailed answers. Definitely recommend this extension.
Way, Way Above Expectations!

Review by Alex

Quality

I basically needed a flexable popup with some support. My business is a e-commerce start up with very little operating expense cash.
This is why I try to use open source platforms to save money and customize. Magento community, PHPLIST for newsletters, etc
After using the popup for a few days, I was having issues getting the form submission into PHPLIST, while preserving the formatting and features of the pop up.
After contacting the developer, I was immediately responded to and helped with troubleshooting and questions.
After a very short time, the dev found out how to implement a solution that worked out perfect for me and PHPLIST and actually is versioning it.
I know enough about magento to do what I need to, but the hierarchy of coding is where I get lost.
Great pop up, great support, great value 5 stars!

Supreme Support!

Review by Julianne

Quality

This was my response to the Magebird (Ernest) after trying the demo version & running into two very small issues:
"Wow!!! I will do this later but, I just had to let you know that in three years of working with Magento – I have never had such quick responses. Neither have I had a developer that could just "look" at the problem & explain to you how to fix it. I am exceedingly awed. Thank you."
**Absolutely excellent support & I hadn't even purchased the extension yet. Also - the extension is very easy to use. All of the included templates are very professional & super easier to customize. I had this installed & was customizing my first popup in minutes. There is not a popup that you will need that this extension doesn't cover. It is well worth the cost & then some.

Best Extension Ever

Review by schaubmr

Quality

Seriously. If you use popups, it's worth every penny, and then some. The uses are limitless and the rules you can build are anything you'd ever need. Couple that with outstanding developer support and you're looking at my website's single favorite extension.
We started offering a unique, coupon code to first time purchases and have seen subscriptions to our list skyrocket. Thx MageBird!!

Awesome module and support!

Review by Kim

Quality

We always want free modules to our stores. But incredible and complete modules deserves to be paid. This is the case of Popup from Megebird.
Some modules from Magento Connect offer a unic type of popup. This module covers every possibility of popups you may want and with the ability to customize everything.
Support is incredible too, they answer fast, explain everything you need, accept suggestions of new features, help you with especific customizations.
I'm very satisfied with everything, worth the cost.

So glad I picked this pop-up extension! Community v1.9

Review by benrefurb

Quality

I love all the pre-made templates for pop-ups and all the settings let you do just about anything you want. However, I wanted a pop-up that only happened AFTER a specific interaction by the customer. The developer helped me modify the script of a different extension to disable or enable a specific pop-up. That level of customization ended up causing a bug that prevented up/down scrolling but the developer came out with an update to fix that situation.
Support was amazing and crazy fast! They even solved a problem with my core magento code where I messed up trying to install rich snippets.
We are using this to promote specific products in the cart with an unobtrusive slide up window. I also replaced an ugly and inconvenient copyright pop-up from another extension with a much better looking, better placed and less annoying pop-up using this extension.
So many features and settings to pick from but it was also easy to set up and learn. I had great looking pop-ups after just minutes.

Add your review