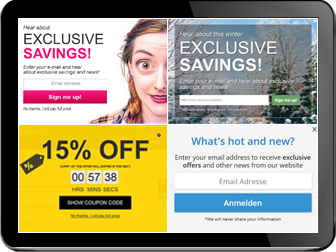 Magento Popup Extension

4.9/5 Read all 34 reviews
Best rated Popup extension with conversion rate boosting tools. Newsletter, exit intent, dynamic coupons and 50+ extra features.
Reduce abandoned carts + boost your sales and newsletter subscribers for up to 140% with Popup extension for Magento. Show news, notifications, videos, shopping assistant, age verification, promotions in professional popup.
SEO friendly. Different display settings gives you option to create SEO friendly topbar popups also for mobile devices.
Exit intent technology and Newsletter widget (with MailChimp and 13 other newsletter services) and countdown timmer with dynamic coupon options are also included.
With this powerful marketing and conversion optimization tool you can show cart personalized popup window when users tend to leave your site with product inside cart. Show them coupon to keep them on your site.
Improve performance by up to 50% using special effects. See some of them in our demos:
Demo popup with image | Exit intend with timer | Top block with newsletter | Advance design | Right side image | Show on hover (hover this text to see it) | Multi popups | On click + Video | Rotate & Zoom | Elastic Show | Slide up | Fade In | Slide Down


Newsletter, Countdown Timer, Register, Social likes and Buttons widget with 50+ different templates you can use and modify! Or create own pop up with unlimited choosing options. Easy to install and edit, no programming skills needed.
Well coded, no negative performance impact on your site. Tested also on mobile and tablet devices. Easy to install and edit, no programming skills needed. Works also when fullpage cache is enabled. This is one of the best rated Magento Marketplace extensions with 2000+ installations and 60+ positive reviews (Marketplace Popup Extension reviews).
TECHNICALLY BETTER:500% less memory consumed. You don't want extra 10Mb of memory consumed per ajax call, right? Details.
FANTASTIC SUPPORT:Professional and super responsive support. Avererage response time is 0,5h.
FREE BUGFIX:We guarantee a free bug fix for whole 4 months!
REFUND GUARANTEE:30 days money guarantee.
WORKS ALWAYS:It works on all Magento 1 versions. No conflicts with other modules.
Conversion boosting examples:
Popup Extension can be used in a many different ways, for marketing or other purposes. Let's mention just some of the many possible uses of the extension.
Show topbar with countdown timer with time limited coupon when user adds item to cart. Make them act fast or they will lose discount. Don't give your customers time to check offers in other sites.
Show 10% off through this Monday offer with get coupon button. This can lift your conversion because user believe tomorrow won't get this offer.
Show 'Only a few left, Buy now to secure your item' tooltip for products with stock qty less than 5.
Show contact form inside search results if there were no results found. Ask them to send inquiry.
Show popup window and offer to customers extra discount or free shipping if they spend extra 30$ only when cart subtotal is more than 300$ and less than 400$. If they spend more than 400$ show different popup and offer different discount.
Offer to customer coupon code if they tend to leave your site while they have a product in cart. You can also show count down timer inside popup to make time limited offer.
Show popup only to visitors that came to your site from specific url pattern or specific countries. For example you can create offer A for users that came from Google and offer B to users that came to your site from Facebook.
Offer shopping cart related product. If somebody added to cart product from category A he may be interested also in product B. The extension gives you option to display popup when there is a product from specific category or with specific attribute value in cart.
Popup templates: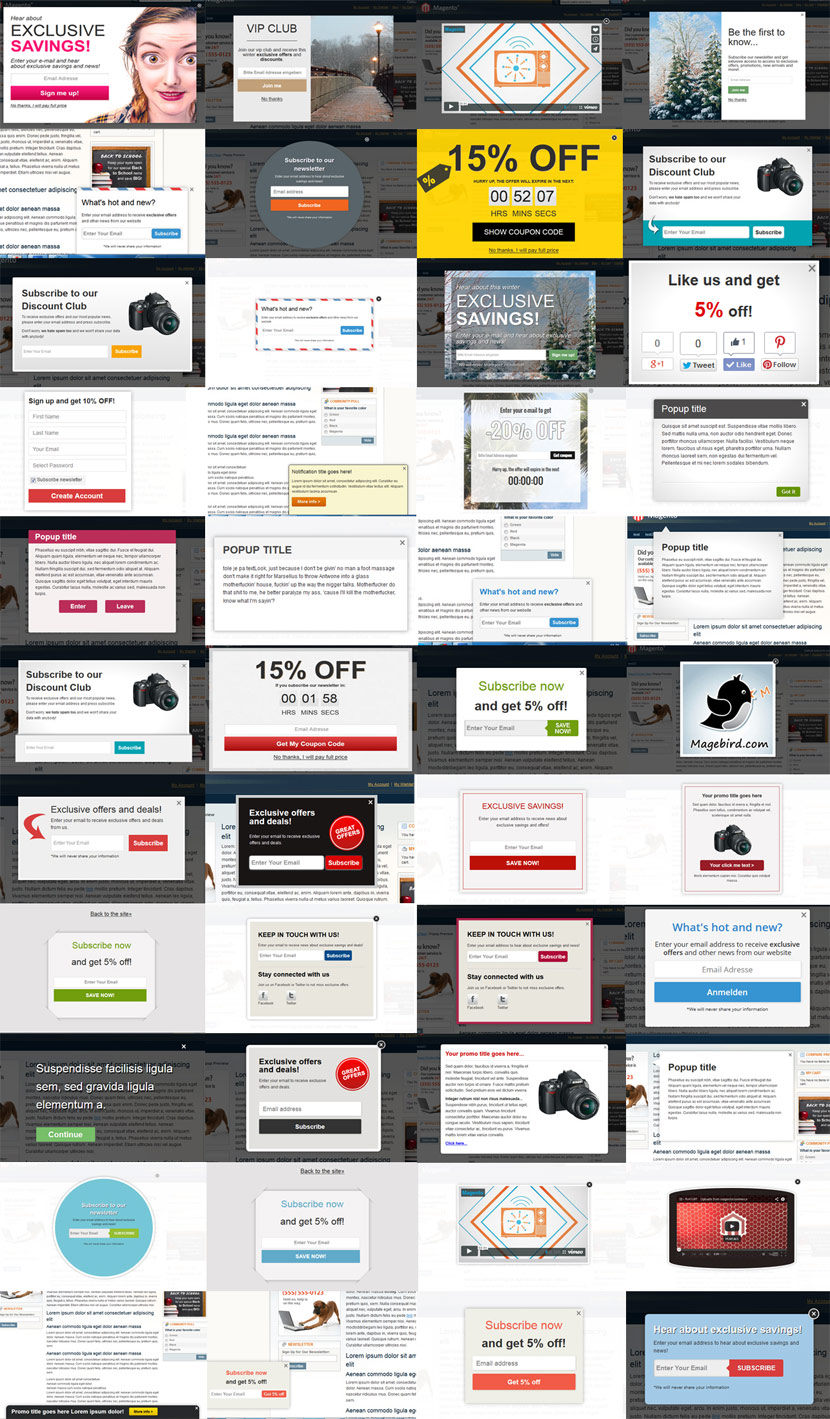 + more...


List of functionality:
Newsletter services:
-MailChimp
-AWeber
-MailerLite
-Constant Contact
-Campaign Monitor
-ActiveCampaign
-Sendy
-iConneqt
-phpList
-dotmailer
-GetResponse
-Klaviyo
-Nuevomailer
-Emma
-Mailjet
Advanced analytics:
-Average time per view
-Visitors close window
-Visitors close popup
-Visitors clicked inside popup to follow a content inside it
-Google analytics events tracking with 10+ different events (Popup - Newsletter subscribed, Popup - User registered, Popup - Facebook like, Popup - Twitter follow, ... )
-Sales assisted by popup coupon
-Popup conversion %
-Abandoned cart %
Different styles:
-Predefined templates
-Choose border color
-Choose background color
-Choose corner style
-Different close icons
-10+ different button styles
-Background overlay style
Show effect:
-Appear
-Elastic animation
-Swing animation
-Rotate & Zoom animation
-Slide down
-Slide up
-Fade in
A B testing
Duplicate Popup button together with analytics makes easy to perform A B testing.
Mobile support
You can choose width unit (px or precentage) to make responsive popup for mobile devices. Devices field gives you option to different popup for mobiles and tablets.
Cookie support
Own cookie for each popup, don't show the same popup again to the same user
Show at:
-Category pages or specify category ids
-Product pages or specify product ids
-Homepage
-Checkout onepage
-Cart
-Specified url
-All pages
Show when:
-Instantly when page loads
-When mouse leaves browser window
-After defined seconds
-On click (you can write id,class or tag selector)
-On hover (you can write id,class or tag selector)
-After user uses scroller
-Define time after product added to cart

Extra show conditions:
-Day of the week
-Product attribute
-Cart subtotal
-User ip
-Country (This feature includes GeoLite2 data created by MaxMind, available from https://www.maxmind.com)
-If product or product attribute value in cart
-If product from specific category in cart
-Show to logged in or unloged user
-Devices
-If referall url condition
-If not referall url condition
-Customer groups
-If pending payment order
Show again:
-Show every time
-Show only once
-Show only once per session
-Show until user close it
-Show until user click inside popup
-Show until user click inside popup or close it
Display position:
-Define vertical position
-Define horizontal position
Other features:
*10+ coupon options including time limited options and one coupon per IP option
*Exclude pages from showing
*Start Date and End Date
*Mailchimp double opt-in settings
*Image link
*TinyMCE WYSIWYG editor
*Define popup dimension
*Define Store View
*Close automatically after x seconds
*Disable on mobile and tablet devices
*Multiple popups on the same page

Easy to modify:
If you are developer and you want to new filters to collection, you can do this very easy by modifying separate class that was created for this purposes. See our FAQ for more information about that.
Why is our solution is also technically better than others:
Magebird Popup Extension is also technically better than most other solutions. Our extension uses ajax call to load popups. This is the only way to prevent popups to be cached if you want to display popup based on segmentation. Otherwise all customers would get served the same popup and every time.
Some or most of other popup extensions don't use ajax call at all which is not good for the mentioned reason. Other extensions which use ajax call require Magento controller to be loaded. This is also not a perfect solution because Magento requires significant server resources. Our solution doesn't require Magento controller to be loaded. We developed a custom script which is used for all ajax calls. We reduced in this way spent resources for almost 500%! This is very important, you don't want to spend extra 10Mb of memory for every page load.
How to use:
Install extension and clear Magento cache. Popup will be added to top admin menu under CMS tab.
The extension comes with professional templates. To browse templates, click Browse popup templates button. You can copy template to modify it or you can create new popup. Once you save popup, it will start appearing on frontend.
If you want to perform A B testing, you can duplicate pop up. Use the same cookie id for duplicate so the same user will get only 1 variation of popup. Analytics data is displayed in popup grid.
To update the extension with never version, go to Magento Connect Manager, uninstall old one and install new one. Old popup data will be kept and no popup will be deleted.
Release log, the latest features added:
Version 1.6.4:
-Magento 1.9.4.2 bugfix for grid added
Version 1.6.3:
-Product widget added
Version 1.6.2:
-Remarkety newsletter subscription added
Version 1.6.0:
-Mailchimp transitioning to api v3
-Option to show consent checkbox inside newsletter form
-Session name inside custom php script renamed to unique name
Version 1.5.8:
-AWeber and MailerLite integration
-Show if not subscribed yet condition added
-Contact form widget
-Show if no search results condition added
Version 1.5.6:
-Dotmailer integration
-OR condition inside product attribute conditions
Version 1.5.5:
-Day of the week condition added
-iConneqt integration
-Nuevomailer integration
Version 1.5.4:
-Emma newsletter system integration
-Extra data added to statistics (number of sales coupon code assisted, popup conversion, abandoned cart)
-New show when condition added - time after product added to cart
-Multi attributes in product attribute filter now allowed
Version 1.5.3:
-Important bugfix for mobile devices
-Klaviyo and Mailjet support added
-Show popup based on total time spent on site
Version 1.5.1:
-ActiveCampaign api integration added
-Show once per session
-IP protection for coupon codes (don't allow user from same IP to get another coupon code)
-Product category inside cart filter added
-Referer NOT url filter added
-Referer url now persist for entire session
Version 1.5.0:
-phpList and Sendy api integration added
-Cart product information inside popup
Version 1.4.7:
-Added new responsive templates
-Added new position: Show on top and push page content down
-Mailchimp groups segmentation
Version 1.4.5 & 1.4.6:
-Countdown Timer
-Coupon expiration settings
-Improved performance of ajax calls
-Display dynamic product information inside popup
-Product attribute conditions
Version 1.4.4:
-Coupon prefix and length settings added
-Not country show condition added
-Show if visited x (number) pages
-Show to new vs returning visitors
-Campaign Monitor and GetResponse integration added
Version 1.4.3:
-Remember me option added
-Custom javascript field added
Version 1.4.2:
Multi url support for exclude url
Show until goal complition (e.g. Subscribed newsletter)
Version 1.4.1:
Added JavaScript Asynchronous support to prevent blocking any resource. When async tag is presented, the script is executed asynchronously with the rest of the page (the script will be executed while the page continues the parsing)
Version 1.4.0:
geoIP - Display popup to visitors from specific countries.
Version 1.3.8:
-Easily add new custom fields into popup editor and collection.
Version 1.3.6:
-Extra show conditions added (Customer groups condition, if product in cart, if pending offer, user ip, ...).
v1.3.4:
-Support to send coupon only to confirmed subscriptions
Before v1.3.4:
-Show to logged in or unloged user
-Exclude pages from showing
-Register with coupon
-Register & Login
-Social share with coupon
-Google analytics event
-Mailchimp dobule opt-in settings


For any idea or questions please contact us.